In the course of our daily work, we can often lose sight of our higher purpose and ideals. I seek to create a space for us to become reconnected to our meaning, community, and purpose.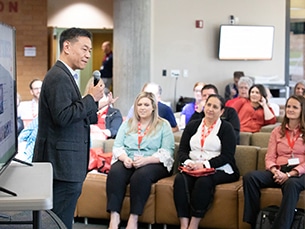 Speaking Topics
The Inward Journey of Life and Leadership
Aligning with Your Authentic Self
Rediscovering Joy in Your Work
Authenticity, Community, and Purpose in Higher Education
Managing the Four Stages of Your Leadership and Career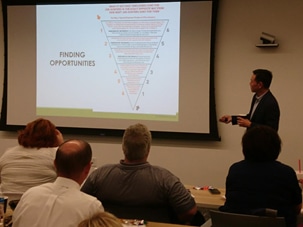 Workshops
How to REALLY Manage Your Time
Being an Amazing Mentor
How to Get What Your Really, Really Want
Building an Exceptional Professional Network
Understanding Your Authentic Leadership Style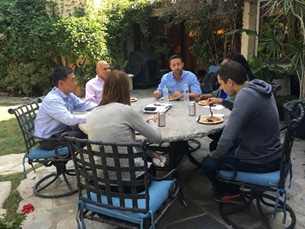 Who I've Worked With
University of Utah
Utah System of Higher Education
University of Michigan
University of California Los Angeles
Uniform Services University of the Health Sciences
Maine Medical Center
Robert Wood Johnson Foundation Clinical Scholars Program
National Clinician Scholars Program
American Medical Association
Association of American Medical Colleges
Johns Hopkins School of Medicine
Feinberg School of Medicine – Northwestern University
Thank you so much for all the work you did in preparing and presenting the trainings to our team this week. The content was extremely relevant to our needs and our team walked away with some fantastic insights and action items. Based on the feedback we've received; we'd love to reach out to you again in the future.
Those attending were thrilled about the experience. The scholars came away inspired, engaged, and that much the wiser. I really appreciate your support and involvement as we try to guide our scholars on their career path. Your session was an outstanding success.
I really appreciate you taking the time to come and talk with the fellows today. You are such a wonderful resource for them and I really value the time and energy you give to our very small program. After the seminar today, the fellows were talking about how meaningful the experience was for them. It's great to see them understand themselves better and for them to see how others see them.
You modeled what you were teaching, brought energy and enthusiasm and guided practice at the end of the day. Bravo
As an introvert, I've been to multiple sessions like this trying to find ways to become more comfortable with networking. This was definitely one of the best! Thank you