What schools won't teach you
In higher education, the focus is on the "WHAT" and the "HOW". Faculty are subject matter experts who are capable of sharing their knowledge. However, if you are sitting in a class with 100 other students, how likely is it that you are working towards a better understanding of YOUR meaning and purpose?
What are the questions that you need to ask yourself that higher education will not ask you?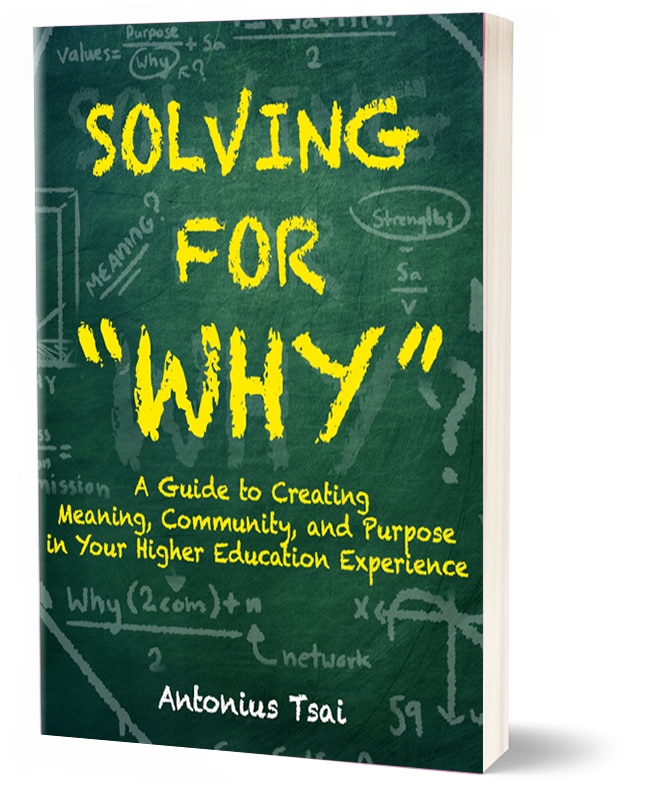 Do you wonder to yourself… What am I doing? What do I really want? How do I live more deeply and meaningfully?
Solving for "WHY" is written to help you ask the right questions and to have greater direction and fulfillment in your life.
Hey, I know how hard it is to sit quietly and reflect. That's why there are many stories in the book, stories from learners like you and stories from the author's own experience as a student, corporate recruiter, career adviser, faculty, and university administrator. The book also contains many specific exercises to help you consider meaningful questions such as… What is matters most to me? What kind of people do I need to know? How will I define success?
This book is meant for those who are interested in understanding their "WHY".
WORKSHEETS FROM THE BOOK
SOLVING FOR "WHY"
This pdf contains all the worksheets from the book, Solving for "WHY".
THE LEARNING CANVAS

The canvas is to help learners identify thoughts and intentions around the six domains (three for the "HOW" and three for the "WHY") for one's learning and professional development. (This is an 11×17 pdf which you can download and write on.)